Overview
Lakewood Paving Company is a full-service, union provider of pavement maintenance services to the commercial, industrial, government and residential markets. We proudly serve the greater Chicago-land area.
We leverage nearly 70 years of combined operating experience, dedicated on-site project manage-ment, a large fleet of industry-leading equipment and proven executive leadership to deliver its cus-tomers quality projects, on-time, on-budget and safely.
• Quality
• Professionalism
• Safety
• Pride
• Experience
• Capability
Team
Joe Kopczynski, Co-founder and President/COO
Joe has 17 years experience in operations management and business process improvement.
Prior to Lakewood, Joe served as the Director of Regional Operations for Rose Paving, a national parking lot maintenance company, where he was responsible for managing all facets of daily opera-tions for a 250 mile radius in the Chicagoland area. He managed 40 crew members, an Operations Manager, Superintendent and 5 Project Managers. Mr. Kopczynski was involved in developing and implementing strategic initiatives aimed at increasing crew efficiencies and productivity, establishing new services lines, training and developing of operations employees, and managing vendor relation-ships. Joe has also co-presented a seminar on Project Management Essentials at the National Pavement Expo.
Prior to Rose Paving Company, Joe spent 10 years in the telecommunication industry where he fo-cused on construction project management, sales and business development for Nextel Communi-cations and Comcast Cable.
Joe received a Bachelor of Arts degree in Public Relations from Loras College and Masters of Arts in Management and Leadership from Webster University. He is an active participant in asphalt indus-try trade shows and associations and a past speaker at National Pavement Expo.
Jim Kopczynski, Co-founder and Advisor
Jim has nearly 15 years of M&A, principal investing, entrepreneurship and operating experience.
Jim is a principal at Waypoint Advisors, a middle market investment bank, and Waypoint Capital, a private equity fund. Before Waypoint, Jim served as the Chief Financial Officer of Critical Signal Technologies (CST), a leader in emergency response and vital sign monitoring. In his role at CST, Jim worked closely with the CEO in all administrative, financial and operational aspects playing an inte-gral role in taking the company from start-up to the industry's largest, independent provider. Previ-ously, Jim was a Senior Associate for Dunrath Capital, a $50M private equity fund focused on growth stage and earlier companies. Before Dunrath, Jim was a founding employee of FOB Incorporated (currently doing business as MSDS Online) where he served in several senior executive roles includ-ing CEO of a subsidiary and VP, Business Development. He began his career as a consultant at Ac-centure.
Jim graduated from Miami University in Oxford, Ohio with a BS in Finance and holds an MBA from the University of Chicago Booth School of Business
Joseph H. Kopczynski, Advisor
Mr. Kopczynski retired from the Illinois Department of Transportation in December 2002 after 32 years of service. He retired as the Chief of Field Operations for the Bureau of Materials and Physical Research for IDOT. During his career, his duties included supervising the sampling, testing and ap-proval of all asphalt products, traffic paints and assorted chemical solvents, totaling over $200 mil-lion dollars yearly, needed for the construction and maintenance of Illinois roadways to insure com-pliance with state specifications. He worked closely with other Illinois state and county officials. Mr. Kopczynski has an intimate knowledge of all asphalt products ranging from seal coating materials and emulsions to crack sealers and binder overlays.
After retiring, he worked for four years, part-time, for Rose Paving, a national parking lot mainte-nance company. His role as a consultant at Rose Paving required him to serve as a project manager for seal coating and asphalt overlays in the Chicago, Indiana and Michigan areas.
Prior to employment with the state of Illinois, Mr. Kopczynski served four years proudly in the Unit-ed States Navy, Naval Security Group, stationed in Adak, Alaska and Washington, D. C.
He received a Bachelor of Science in Biology from the University of Wisconsin-Whitewater. He com-pleted four courses toward a Master of Science in Environmental Sciences at Chicago State Universi-ty, University Park, Illinois.
Asphalt 101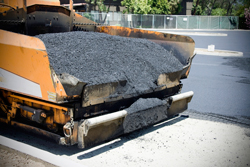 In maintaining your asphalt pavement there are three categories of pavement maintenance you should be aware of preventative, corrective, and emergency.
• Preventative maintenance is routine work done to prevent deterioration of pavement. The idea behind preventative maintenance is to expend funds and materials while the pavement is relatively good condition in order to slow deterioration thus prolong the life of pavement. This includes, crack sealing, asphalt repairs, and seal coating.
• Corrective Maintenance includes those activities accomplished after a deficiency occurs. It is generally reactive and performed to correct a specific pavement distress. Services that are used for corrective maintenance include asphalt milling and overlay, resurfacing
• Emergency maintenance consists of those activities performed in an emergency such as fill-ing potholes or other various trip hazards.
Green
Did you know that an average of 65 million tons of asphalt is recycled every year?
Lakewood Paving Company is focused on sustainability and the environment. We use the industry's most environmentally friendly products, including asphalt-based sealer, recycled asphalt, and low VOC traffic paint.
Notably, Lakewood Paving is one of Chicago's first asphalt companies not offering cold-tar based seal coating products.
Affiliations & Partners
Lakewood Paving Company is proud to be affiliated with the following organizations and associations